---
It's still a work in progress, but here's an early look at Albert Perrault's
Fecunda ratis
, as painted by Matthew Jaffee for the forthcoming Centipede Press edition of
The Drowning Girl: A Memoir
: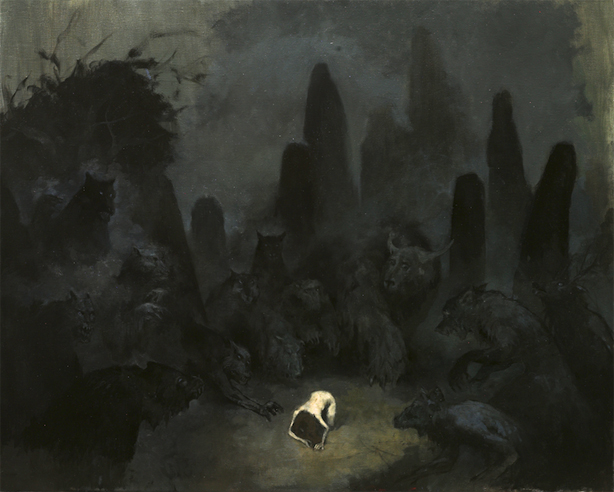 Copyright © 2013 by Matthew Jaffe

I created the painting in my mind way, way back in long ago 2000. For thirteen years I've carried it about in my skull, and I've used it in three or four short stories and, finally, in
The Drowning Girl: A Memoir
. But I never thought I'd see it leak out into the real world. Now...it's leaking. And I'm stunned. I speak of
terror,
and of
horror,
and of the
weird,
and here there are all three. It's going to be an amazing book. Matthew will be creating at least one more Perrault for the edition.
Yeah, I'm supposing Mr. Perrault will never be a darling of feminist art critics.
---
Yesterday, I tried to begin a new story, "Pushing Back the Sky," but it might be a false start. I hope that today will tell.
The day's have been, crazy weather aside, monotonous. Geoffrey is coming to visit on Sunday, which will be a welcomed break in the sameness.
I've been reading
Pogo
, Lord Dunsany's
The Gods of Pegāna,
and portions of Werdelin and Sanders' titanic
Cenozoic Mammals of Africa
(last night, "
Embrithopoda
"). We've been watching Season Three of
Boardwalk Empire
, which has to be, by far, the most beautiful thing on television.
By the way, readers send me gifts. Really amazing gifts. I generally assume they wish to be anonymous, and so I only rarely thank them by name. One particular reader was especially generous lately, which is how I'm able to be reading
Cenozoic Mammals of Africa
. Thank you.
Speaking of
The Secret World
, I've been gaming too much (yes, you can) and getting a lot of very good RP with a number of people. I've just reached the Valley of the Sun God region of Egypt, and it's beautiful realized. It's the first region of the game I've really loved since Kingsmouth, the first questing area after (depending on your faction) New York City, Seoul, and London. Sort of Lovecraft meets Tolkien. Ghouls, instead of orcs. Gorgeous.
Last night I discovered that I like Tương Ớt Sriracha on beef lo mein. Might sound gross, but it's good. Also, this morning I hit 3,000 followers on Facebook.
To be in such a shitty mood, I'm awfully filled with praise and superlatives.
As Our Ms. Geary Would Say, "Super,"
Aunt Beast
Yeah, okay, well today's working hard at being a pain in my ass. The climate's violent mood swings aren't helping. The micro-heatwave has come and gone. On Wednesday the high was 91˚F (with a heat index over 100˚F); today the high will be about 75˚F. Yeah. Okay.
Current Location:

Evros Vallis

Current Mood:

blah

Current Music:

Florence + The Machine, "What the Water Gave Me"
Yesterday, I was a slacker. Instead of writing, we went Outside. To the Providence Art Club (Dodge House Gallery) and the Athenaeum. We went to the former to see
Ars Necronomica
, the exhibit of HPL-inspired artwork, organized in conjunction with Necronomicon. Some beautiful pieces. Storms were bearing down on the city, and it
almost
felt like a Southern summer day, just before a big thunderstorm breaks. When we were finished at the Dodge House, we stopped by the Athenaeum, where
aliceoddcabinet
kindly gave us a tour through their HPL exhibit, which includes some wondrous examples of his own manuscripts, letters, postcards, and other documents culled from the forty boxes of his papers in the collection of the John Hay Library. You see these things, and you begin to get a feel for the actual human being behind all that time and writing. On the way home, a terrific downpour began. There are photos, behind the cut:
(
3 September 2013
Collapse
)
The storms did some damage in Cranston (a flooded apartment building that displaced 75 people, 29 families). In Warren, there was either a microburst or a tornado may have occurred, uprooting and shearing apart huge trees and bringing down power lines. There was hail.
I am determined that I will, this
True Autumn,
make up for a lost summer. Well, one can never genuinely buy back lost time, but....
I've been reading Volume One of Fantagraphics collected
Pogo
strips (I'm up to 1950), and Daniel Loxton and Donald R. Prothero's
Abominable Science
, and rereading "The Shadow Over Innsmouth." And spending far, far too much time playing/RPIng in
The Secret World
(seven hours last night!!!!).
Now, I have to go do that last bit of work I might ever do for Dark Horse Comics, as I've just been informed they've allotted me one desperately needed extra page for
Alabaster: Boxcar Tales
, which is all Maisie, here at the end of the tale. I need to be done with this.
Bittersweet,
Aunt Beast
Sunny today, wide carnivorous blue, and the humidity finally released us from it's moldy clutches. Only 49% at the moment, and 77˚F. I would say it's autumnal out there, but I don't know from New England seasons, clearly. It's pleasantly warm in my office. The window is open, and my little desktop fan is whirring.
Current Location:

Nilus Dorsa

Current Mood:

okay

Current Music:

Moby, "Into the Blue"
The sun is actually warm today, warm on my fish-belly skin, even if March
is
locked deep in a winter that needs to get the fuck out of here, and the low tonight will be 17˚F. I hung my Irish flag in a window of the front parlour this morning, and the warmth of the sun shocked me.
All the world is all I am
The black of the blackest ocean
And the tear in your hand
~ Tori Amos
And, lest we forget...
Thank you, Walt Kelly. Absolutely nothing has changed since 1971, unless becoming more the enemy than ever before counts.
Meanwhile!
Lá Fhéile Pádraig Sona Daoibh. Éire go Brách.
And my favorite St. Patrick's Day link, which I post almost every year:
Why Ireland has no snakes
. Gagh. I so should not have used the green on that text. Looks like a frat boy (who very isn't Irish) puked up green beer on the screen. Ah, well. It is what is is. Oh, and to quote Warren Ellis: "Celebrate St Patrick's Day the English way: steal something from an Irish person and offer them a small, infected potato in return."
Yesterday, I wrote 1,430 words on
Red Delicious
and came to the first "sex scene" in all the Siobhan Quinn stuff. But then a tasteful fade-to-black saved me. I was not about to wreck the flow while characters took ten for a preternatural orgy. Also, there was some hilarious rp last night in The Secret World, with
stsisyphus
and another acquaintance (Hi, Inchy!). I'm not used to funny rp, but funny it was. In a dreadfully creepy tragic sort of way, but definitely fucking funny.
This evening, Spooky and I are having corned beef on rye (with sauerkraut and horseradish) and fries, and pretending it counts. I mean, there
is
corned beef, and cabbage, and potatoes in there. But I miss the years, back in the nineties, when I'd cook HUGE St. Patrick's Day dinners for friends: a brisket with cabbage, oxtail and barley soup,
cál ceannann
, soda bread, and Guinness, and jam cake. But now I am old, and all the birds have flown the nest, and I detest wasting food.
Later, Kittens,
Aunt Beast
I feel scattered, confetti, cut up, mosaic this ayem. I'd blame the dreams, but I might as well blame the drugs, or my defective brain (the conceit of linear thought is for sissies).
Current Location:

Galaxias Fluctus

Current Mood:

okay

Current Music:

Tori Amos, "Mother"