By the way, kittens,
more COMMENTS equals a greater chance of daily entries
.
I have to post this again. It's just too wonderful (thank you,
Greg
):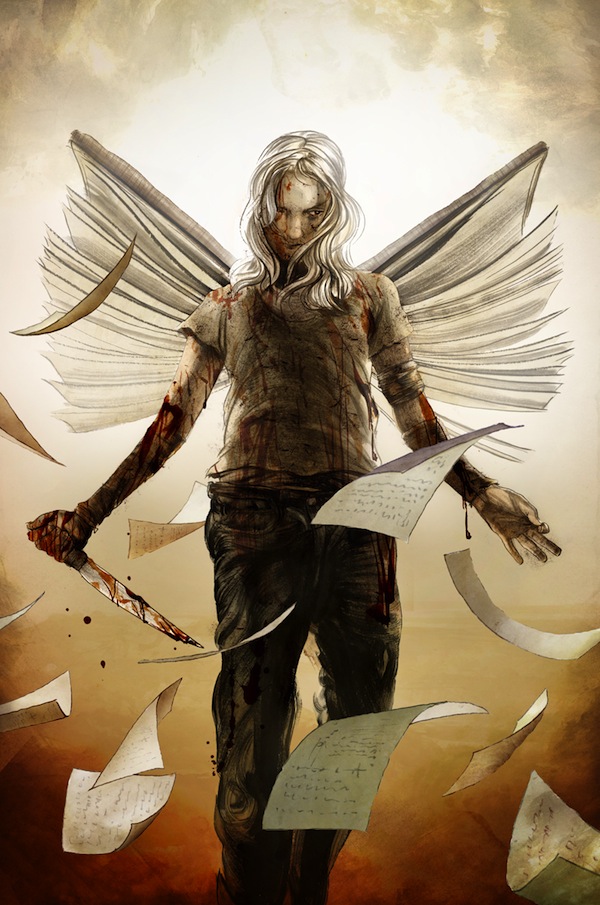 Whether or not there will be
more
to the
Alabaster
comic than this one mini-series, at least I know that we've done a goddamn good job, all of us involved. Anyway, that whole "whether or not there's more" thing is up to the readers at this point. You've got the power. Sounds like a slogan for Skittles, doesn't it? Ah, and here's
a new Dancy interview
(about, not with).
Yesterday, I actually (despite feeling sicker than a sick dog) managed to begin a new piece for
Sirenia Digest
#76 (it's coming, truly), titled "Cages 1." I wrote 1,048 words. This is a first go at very dark SF piece I envisioned months ago, then began figuring out with the invaluable help of
corucia
, as it involves considerable knowledge of genetics, and it's been a long, long time since I taught such things (Oh, and I once had a work-study job as an assistant to a geneticist who was obsessed with guppies. I fed mounds of krill to thousands of guppies every day for eight months). Anyway, yes, this piece will be sort of a fever-dream sketch for what I hope to one day write using the concept, the world I'm creating to house the concept. And yesterday I was lucky even to be able to manage a fever dream. Stream of consciousness was high ambition. But I lashed myself to the wheel and steered that mother into the wind.
And answered a lot of email, mostly regarding the comic and additional interviews (including one with
SuicideGirls
). Felicia Day, Jane Espensen, and Mike Mignola all tweeted about Dancy, which was very fucking bow tie, indeed. I entertaining the notion of a
tiny
one-week long Kickstarter to raise money for Dancy Flammarion stickers, to disperse to the Dancy Street Team. And I mean really
nice
stickers. Oh, and corrections were made to "Nor the Demons Down Under the Sea" which, today, goes off to the anthology's (TBA) editor.
Another by the by: "Goggles (c. 1910)" will be appearing in
Ann VanderMeer's Steampunk III: Steampunk Revolutions
. But you might already know this, as I dragged my feet on the announcement. Blame Monsieur Insomnia.
Last night, Spooky and I watched
The Muppets
(2011), which was huge goofy fun, and made me feel much better. Especially Jack Black. Jack Black and Kermit. Together. Bow tie to the max. We followed it with "Once More, With Feeling" (
Buffy
6[7]) – like a practice Kindernacht – and then I went to bed and soliloquized about the early gymnosperm Family
Welwitschiaceae
and the climate of Pangaea until Spooky rolled her eyes, and I slunk away beneath the covers and read from Ligotti's "The Last Feast of Harlequin."
Slinking,
Aunt Beast
After the true misery of post-insomnia bleariness that was yesterday, last night I managed the impossible – I slept about eight and a half hours. Which means I'm very, very impossibly fucking behind today, but...at least I'm not exhausted, and at least there's a better chance that I'll be functional in the days to come. This meat sack can take only just so much, and then it begins to crumple. This brain forgets how to create diamonds, and all I get are the attendant headaches.
Current Mood:

still anxious, but rested

Current Music:

Arcade Fire, "Abraham's Daughter"